Grilled Oysters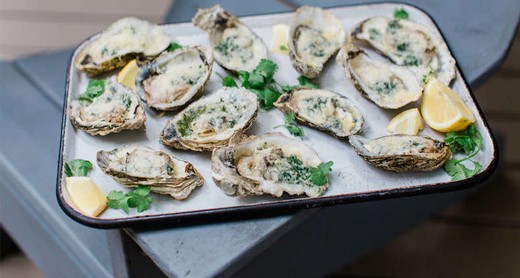 Recipe Date:
January 11, 2021
Measurements:
Imperial (US)
Ingredients
2 tbsps Champagne Vinegar
2 tsps Finely chopped red onion or shallots
1/4 tsp Extra virgin olive oil
Pinch of granulated sugar
Pinch of kosher salt
12 Oysters, shells scrubbed of loose particles
Directions
Instructions
First, make the champagne mignonette. It's best to make the mignonette a few hours before you are going to grill the oysters to allow it to cool and thicken appropriately. In a small bowl, combine 2 tablespoons of champagne vinegar, 2 teaspoons of finely chopped red onions, 1/4 teaspoon extra virgin olive oil, a pinch of granulated sugar, a pinch of coarse black pepper, and a pinch of kosher salt. Gently stir ingredients together, before covering with plastic wrap and allowing to chill in the fridge for at least 2 hours.
Once the champagne mignonette is ready, prepare your grill for the oysters. The grill needs to be HOT. Place oysters with their cup against the grill, cover grill, and grill until oysters begin to open. The oysters can take anywhere between 2 to 5 minutes, and will likely pop open only a quarter of an inch or less.
Transfer opened oysters to a platter, making sure to discard any that do not open. Let cool slightly (having a bed of ice to cool the oysters on allows you to handle the hot shells more easily), then use a short, blunt knife to pry the shells fully open, keeping cupped side down and retaining as much liquid as possible. Use a paring knife to cut the muscles connecting oysters to shells. Serve immediately.